Meet the maker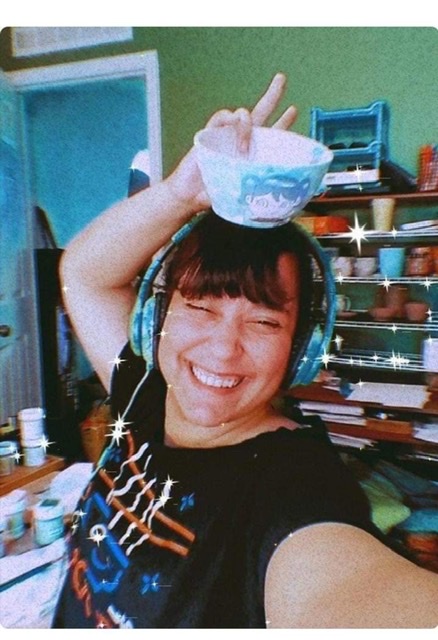 Hello!
My Name is Rochelle Garcia!
I am a Ceramic artist that makes one of a kind earthenware pieces.
My creations are whimsical and lighthearted, meant to bring joy and happiness into everyday objects. I hand build and pinch as well as throw all of my pieces from balls of red earthenware clay. I enjoy the imperfection, and texture that is ingrained into each piece by working using my hands. I often paint, carve, add on flowers, plants, polka dots, and smiling "Carrot" nose characters onto my pieces but no two are the same. Each piece is completely unique and one of a kind exploration of form, color, and ideas. Often I use various shades of blues, yellows, and pinks in my work. I think these colors really come alive against the warm reddish-brown of the earthenware clay body I use. I am inspired by my love of cute things, cartoons and words that make me feel a sense of joy. I hope for smiles and laughter when people come across my work and a special feeling of owning a piece of art.


A LITTLE ABOUT CUTE AND CLAY
Cute and Clay is solely run by Rochelle Garcia. Rochelle first fell in love with clay at a young age but started to really create in 2012 while attending Maine college of Art. After graduating with a BFA in Ceramics and a minor in Public engagement, she move back home to Florida to keep her artistic life going! The shop Cute and Clay was formed in 2016 with a brick and mortar in Artegon Orlando. Sadly the whole mall was closed before even reaching a year!
In 2017 to 2022 Cute and Clay now travels around to various indie markets around Florida and sells her work online. To keep up with where you can next catch Cute and Clay follow us at www.instagram.com/cuteandclay